CALL FOR PAPERS: TIPPING POINTS FOR EMERGENT PHENOMENA IN TEAMS
21.11.2018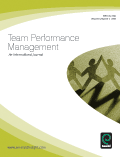 CALL FOR PAPERS
TIPPING POINTS FOR EMERGENT PHENOMENA IN TEAMS
A special issue of Team Performance Management
As many organizations depend on teams to accomplish their goals, understanding how they can work successfully in diverse environments is considered a priority for researchers and practitioners.
Despite the body of research on teams and teamwork, how exactly team members interact to generate such emergent states and processes (Marks, Mathieu, & Zaccaro, 2001) has not been studied in a dynamic, network-focused way. Indeed, and even though there are numerous studies on many emergent states of teams (e.g. team mental models or team cohesion) and on their relationship with team effectiveness or team processes, little is known about the process of emergence itself. In other words, research is needed to understand specifically what teams and team members actually do while working, that leads to the emergence of certain team properties that facilitate team effectiveness.
Also, the dynamic aspect of working in teams (Roe, 2008), calls for a shift in organizational theory and research involving how specific events (Morgeson, Mitchell, & Liu, 2015) shape team processes and, particularly, emergent states.
Recent developments under the dynamic network approach are being put forward as the "next step" in team effectiveness research. These identify key elements such as "goal striving to advance a communication or viewpoint", "system supporting of others" (Westaby, Woods, & Pfaff, 2016), or structural signatures such as reciprocity or transitivity (Leenders, Contractor, & DeChurch, 2016). However, these efforts remain in a theoretical level. For example, Morgeson and colleagues (2015) developed the Event System Theory, focusing on organizational events and their single-, cross- and multi-level effects.
Part of the reason for this lack of empirical knowledge on the processes of emergence is that the methodological challenges are substantial. This special issue intends to fill in this gap, calling for works that address the phenomenon of emergence in terms of "what happens" rather than "what is" (Roe, 2008, p. 41).
Team Performance Management announces a special issue that is dedicated to the topic of the dynamics of emergence in teams. This special issue provides an outlet for cutting-edge research that addresses the processes through which emergent states emerge and develop overtime, and that focus on specific events that influence them. We especially welcome submissions that explore cognitive shared states such as team mental models or transitive memory systems, collective affect, team micro-level interaction, leadership emergence and other topics that explore the phenomena of emergence in teams.
Topics of interest:
We invite both quantitative and qualitative studies, and especially seek research with a longitudinal approach. In particular, we encourage submissions that address issues related (but not limited) to the following areas:
What intergroup and intragroup interactions and group processes shape the emergence of specific emergent states?
What is the role of specific organization, team or individual-level events in predicting the emergence of specific emergent states?
How to predict the emergence of tipping points signalling the activation of team cognitions, and team emotional responses?
When do the tipping points occur throughout the team lifecycle?
Deadline and Submissions
Manuscripts should be prepared according to the Team Performance Management author guidelines available here, and need to be submitted through the online submission system of Team Performance Management: https://mc.manuscriptcentral.com/tpm
The deadline for the submission of papers is 30 April 2019. When submitting it is important that you clearly state that your submission is meant for the special issue "Tipping points for emergent phenomena in teams".
Guest Editors:
Catarina Marques Santos, PhD, Maastricht University, School of Business and Economics, the Netherlands
Patrícia Costa, PhD, Católica Lisbon School of Business & Economics, Portugal
Pedro Marques-Quinteiro, PhD, William James Center for Research, ISPA – Instituto Universitário, Portugal
Ana Margarida Graça, PhD, Henley Business School, University of Reading, United Kingdom
Contact:
The guest editors are happy to discuss ideas for papers and can be emailed at the below addresses:
Catarina Marques Santos: c.marquesdossantos@maastrichtuniversity.nl
Patrícia Costa: patricia.costa@ucp.pt
Pedro Marques-Quinteiro: pquinteiro@ispa.pt
Ana Margarida Graça: ana.graca@henley.ac.uk