Workshop and Special Issue call for papers: JUSTICE ENACTMENT – "DOING JUSTICE" IN ORGANIZATIONS
28.10.2018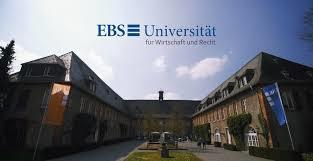 Workshop and Special Issue call for papers: JUSTICE ENACTMENT – "DOING JUSTICE" IN ORGANIZATIONS
Keynote Speakers:
Suzanne Masterson, Carl H. Lindner College of Business, University of Cincinnati & Mario Gollwitzer, Ludwig-Maximilians-University Munich, Germany
EBS Business School, Germany, June 5-7, 2018
Organizing Committee: Marjo-Riitta Diehl and Abiola Sarnecki, EBS Business School, Germany;
& Chris Bell, Schulich School of Business, York University, Canada; Jonathan Crawshaw, Aston Business School, United Kingdom; Russell Cropanzano, University of Arizona, United States; Marion Fortin, CRM, University of Toulouse 1; Tessa Melkonian, emlyon business school, France; Thierry Nadisic, emlyon business school, France; Charmi Patel, Henley Business School, University of Reading; Guillaume Soenen, emlyon business school, France
We invite you to submit papers and attend the 6th International Workshop on Insights in Organizational Justice and Behavioural Ethics to be held on June 5 – 7, 2019. The site of the workshop is EBS Business School, located in Oestrich-Winkel, a 30-minute drive away from Frankfurt Airport.
The aim of the workshop is to bring together a small and select group of researchers interested in the study of ethical behaviour and organizational justice in the workplace. The workshop will emphasize high-impact scholarly inquiry into the domains of behavioural ethics, corporate social responsibility, ethical decision-making, leadership, organizational justice, and related areas of study.
The specific theme of the 6th workshop is justice enactment, referring to the deliberate, conscious, and intentional actions of an individual to treat others in an either just or unjust manner. Although a wealth of evidence suggests that organizations and managers should care more about justice, we still know little about how justice agents make sense of the justice recipient's situation or experience and how they decide to enact justice upon it or not Theoretically, an in-depth understanding of justice enactment will complement the existing rich literature on justice recipients and the growing body of research on third parties. Practically, broadening the existing understanding of the underlying forces of (un)just treatment from the actor perspective is an important step towards fairer workplaces.
We welcome submissions that tackle any aspect related to justice enactment. The Workshop will be limited to a small group of active scholars. We will seek to provide a dynamic setting for mutual discussion, conceptual feedback, development of new research ideas, and building collaborative relationships. We consider early stage papers based on new theoretical ideas or preliminary findings as well as fully developed manuscripts. We are also interested in novel methodological approaches. The most important requirement is a willingness to share ideas and learn from one another. There is no fee for attending and presenting at the workshop. However, we will ask all who have a paper accepted and plan to attend to formally register as will be instructed after the acceptance.
Workshop presenters are encouraged to consider submitting their papers to be considered for publication in Journal of Organizational Behavior Special Issue on Justice Enactment – Research on "Doing Justice" in Organizations. The Deadline for submissions to the Special Issue on September 15th, 2019. For more information refer to: https://onlinelibrary.wiley.com/journal/10991379
Please, note that the special issue is open to all manuscripts and authors beyond this workshop.
Submissions and key dates:
1st March 2019: Submission of a paper title and an abstract of around 500 words
22th March 2019: Notification of acceptance / rejection of abstracts
17th May 2019: Submission of final papers – full papers (15-20 pages) are invited, although given the nature and aims of the workshop, more developmental papers (8-10 pages) are also welcomed.

All submissions, and any other enquiries, should be done electronically and directed to Marjo-Riitta Diehl at marjo-riitta.diehl@ebs.edu. For any further information please visit the workshop page on the IWOJBE website at www.ojberg.org.